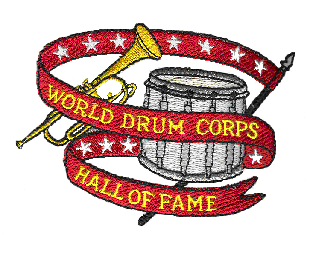 Class of 2016

Seven new World Drum Corps Hall of Fame inductees have made their mark in the United States, Canada and Europe:
Seven new members of the World Drum Corps Hall of Fame to be inducted in September have left their marks on drum and bugle corps activity across the United States, Canada and Europe.
The 2016 banquet and induction ceremony marking the 40th anniversary of the Hall of Fame's founding in 1976 by the late Vince Bruni will take place in Rochester, New York on Labor Day weekend, one of several special events to be held during the Drum Corps Associates (DCA) championship tournament weekend on September 2, 3 and 4.
The winners of the Hall of Fame's 2016 Professional Achievement Award, the President's Award and the names of those to be inducted as associate members will be announced shortly.
The new inductees and their areas of specialization are: Bob Bradley and Don Dean, Administrative; Bobby Burke, Brass; Rick Rogers and Ed Teleky, Percussion; Michael Durborow and Bobby Jones, Visual.
The Hall of Fame induction ceremony is one of the highlights of the Drum Corps Associates (DCA) Labor Day championship tournament weekend, along with individual and small ensemble competitions; a mini corps contest, day-long preliminaries on Saturday for all competing corps, an Alumni Spectacular field show concert Sunday morning and championship finals Sunday evening. There is no formal connection between the two organizations although the Hall of Fame induction banquet is traditionally held on the DCA championship weekend.
The new inductees and categories are:
Administrative: Robert Bradley of Seymour, Connecticut
During more than 50 years of drum and bugle corps involvement, Bob Bradley has applied his strong work ethic to every area of the activity, including serving as corps director and board chairman, instructing, selling tickets, marching, performing as a soloist and providing financial support. He was one of the first World Drum Corps Hall of Fame associate members inducted when that new category was introduced in 2001.
Between 1983 and 2005, he served in key administrative positions with Connecticut Hurricanes senior drum and bugle corps, including membership on the board directors, corps director and chair of the board for more than 10 years up to 2005. Starting in 2006, he served for more than seven years on the Bridgeport PAL Buccaneers board of directors.
He was brass instructor for three well known New England corps: Golden Crusaders of Southington, Connecticut in 1973 and 1974; St. Aedan's Emerald Cadets from 1973 to 1975 and the Explorers of Oxford, Connecticut in 1975 and 1976.
He entered the activity playing solo soprano from 1964 to 1967 with St. Aedan's Emerald Cadets of New Haven. He was also soprano soloist with Milford Shoreliners from 1968 to 1972 and Connecticut Hurricanes up to 1990.
Brass: Bobby Burke of Winter Haven, Florida
Bobby Burke began his lifelong involvement with drum and bugle corps at age eight when his father introduced him to the Staten Island Cadets. He represented the third generation of family involvement dating back to his grandfather's drum corps activities in the 1940s. He entered his first individual contest at age 13, defeating 35 of the best buglers in junior drum corps. He was undefeated in 15 individual contests that year. In the following 50 years, he finished first in all but two contests.
Recognition of his contributions include the Long Island Sunrisers rookie of the year award in 1987; Drum Corps Associates (DCA) best soloist award in 1988; Sunriser of the year in 1995; induction to the Sunrisers Hall of Fame in 2008 and the Buglers' Hall of Fame in 2011.
In 1964, at age 14, he was playing the Ballantine Brewers opening number behind an equipment truck. Corps officials were so impressed they put him in uniform and he marched in the show the same night. At age 16, he auditioned with Hawthorne Caballeros and immediately became the featured soloist. In 1979, he auditioned with New York Skyliners and performed as featured soloist until 1986, mentoring many young corps members during this time. He was the soloist with Long Island Sunrisers when they won DCA championships in 1987 and 1988.
After his competitive years, he continued to perform with and inspire a number of alumni corps, including St. Lucy's Cadets, New York Skyliners, Blessed Sacrament Golden Knights, St. Kevin's Emerald Knight and Florida Brass.
Administrative: Don Dean of Newburgh, Ontario
With Don Dean serving as corps director Kingston Grenadiers placed in the top 12 in Drum Corps Associates (DCA) open class competition nine times from 1995 to 2003, the most appearances in the finals by any Canadian corps. In 2004, Grenadiers won the DCA Class A title with high brass, percussion, general effect and visual caption scores. The corps placed second in Class A competition in 2009 and 2010.
Under his leadership, Grenadiers were Ontario Drum Corps Association (ODCA) champions in 1998 and 1999. He was the drum instructor for Empire Loyalists when the corps won the Canadian Junior National Championship in 1987, with high drum score.
His activity as a performer, instructor and administrator spans the years since his first involvement as a snare drummer with Kiwanis Centennials junior corps in 1965. His long association with the Grenadiers includes playing snare drum from 1969 to 1998. He was also drum arranger and instructor from 1980 to 1997. He has been director of the Grenadiers since 1979. He also served as Grenadier Cadets junior corps director from 1980 to 1982.
The hallmark of his administrative career was guiding the corps through the lean years as well as the good times by simultaneously serving as a fundraiser, instructor and director.
Over a 20-year period beginning in the late 1960s he served as drum instructor with several eastern Ontario junior corps including Challengers All Girls, Grenadier Cadets and Empire Loyalists. He also taught and arranged for Kiwanis Kavaliers drum line from 1986 to 1988.
Visual: Michael Durborow of Barnegat, New Jersey
Michael Durborow's devotion to the Caballeros and Muchachos of Hawthorne produced a remarkable string of achievements. During his years of service as drum major, visual designer and drill instructor from 1983 to 2005 Caballeros won the Drum Corps Associates (DCA) championship four times. Caballeros were undefeated in 1984, 1985 and 1995. During his two decades of service, Caballeros won the DCA high visual award four times and placed in the top three 16 times.
As staff coordinator from 1994 to 2005, his knowledge and organizational skills were applied to the structure of rehearsal sessions and staff coordination to produce the best use of practice time. He is an inspiring leader able to boost the spirits of corps members and instill a sense of confidence.
Almost all his drum corps activity involved the Muchachos and Caballeros, with the exception of two years serving as drill instructor for Garfield Cadets in 1979 and 1980 and as visual caption head for Fusion Corps from 2011 to 2014.
He began his 10 years of involvement with Hawthorne Muchachos in 1967, first marching in the color guard, then the drum line, then the indoor guard, finally becoming drum major in 1977. He also marched in front of the Caballeros as drum major in 1983 and 1984. He was Cabs' drill instructor for 20 years from 1985 to 2005 and visual caption head from 1994 to 2005. He also served as staff coordinator from 1994 to 2005.
Visual: Bobby Jones of Pleasant Valley, New York
Reading Buccaneers won the Drum Corps Associates (DCA) championship eight times between 2005 and 2015, while Bobby Jones was visual designer. During that decade, the Bucs' won top visual scores in seven of eight championship years and again in 2011.
He has been a member of the Buccaneers' Hall of Fame since 2014.
While active with the Buccaneers, he has also provided his visual design expertise to other well-known drum and bugle corps. In 2006, he was visual designer and caption head for the Crossmen. He has been visual designer and co-program coordinator with Sunrisers since 2015. He provided visual design services for Jersey Surf at two different times: in 2001 and again from 2011 to 2014.
In 2007, he was visual designer and caption head for Hawthorne Caballeros and served in the same two positions with Kingston Grenadiers in 2009. In between, he was Carolina Gold's visual designer.
He has been a member of DCA's visual task force since 2011. For more than 10 years, he has been visual judge for several organizations including the United States Scholastic Bands Association (USSBA, now known as USBands), Winter Guard International (WGI) and the Mummers Parade.
Percussion: Rick Rogers (deceased) of Oswego, New York
Not only was Rick Rogers (who passed away in 2010) a talented drummer, percussionist, instructor, arranger, administrator and judge he founded two well-known businesses serving the drum and bugle corps community: Stingray Percussion and Empire Percussion.
He served as percussion judge for Drum Corps Associates (DCA) contests from 1985 to 1995, judging regular season contests and championship finals. He served in the same capacity with other groups including the National Judges Association from 1990 to 1996 and New York Federation of Judges from 1985 to 1996.
During an instruction career spanning more than four decades beginning in 1971, he was associated with some of the best-known and successful drum and bugle corps in upstate New York, Illinois and Ontario. From 1977 through 1988 he was in successive years the percussion arranger and instructor for the Squires of Watkins Glen, New York; the Guardsmen of Schaumburg, Illinois; Avant Garde of Saratoga County, New York and Rochester Crusaders. He served in the same capacity with the Grenadiers of Kingston, Ontario in 2005 and 2006. He was known for his strong sense of timing on snare and set drums as well as holding unique concepts of drumming grooves and the ability to identify various aspects of drumming including ethnic styles.
He first performed as a snare drummer with the Appleknockers of Geneva, New York in 1971, moving on to play snare drum with Watkins Glen Squires from 1975 to 1977, Rochester Crusaders from 1980 to 1988 and Kingston Grenadiers from 1984 to 1988.
Percussion: Ed Teleky of Washington, D.C.
Ed Teleky is one of the pioneers of front pit percussion ensembles, introducing unique, innovative sounds to drum and bugle corps field performances. He has composed and arranged music for top groups including Santa Clara Vanguard, San Francisco Renegades, Scrapers of Japan, Sunrisers, Skyliners, and Bayonne Bridgemen.
Medal-winning percussion ensembles that he has taught include1995 Drum Corps International (DCI) percussion champions Santa Clara Vanguard, who premiered his award winning composition The Dance of Ki; 2006 Drum Corps Associates (DCA) percussion ensemble champions San Francisco Renegades; 1993 and 1994 DCA percussion champions New York Skyliners; 1985 DCI percussion ensemble silver medalist Bayonne Bridgemen.
He holds Bachelor of Music and Master of Music degrees from Juilliard School. He is the author of several music instruction books, including Fundamentals for the Pit Percussion Ensemble and The Universal Technique. He served as a committee member for the Percussive Arts Society and adjudicator for the National Judges Association in music, percussion and general effect. He began judging percussion with DCA in 2014.
During 28 years of active duty military service, his highlights as drum major of the United States Air Force Band include conducting and directing more than 6,000 ceremonies involving the world's highest officials. He also designed the shows for Air Force productions at the 1995 Netherlands National tattoo, the 1996 Scandinavian Tattoos in Norway and Sweden and the dedication of the United States Air Force Memorial in 2006.
He taught the Bayonne Bridgemen percussion section from November 1984 through August 1985 and also marched in the drum line in the 1985 season. In the following years, he was percussion arranger and instructor for Long Island Sunrisers, New York Lancers, New York Skyliners, Santa Clara Vanguard. He was the front ensemble writer for the San Francisco Renegades from 2001 to 2005 and wrote for brass and percussion from 2003 to 2005. The Renegades won the 2006 DCA percussion ensemble championship performing his original composition.
He began his percussion career performing with the Silver Stick Strutters from 1972 to 1976, then moved on to perform with New York Lancers from 1976 to 1981.
Steve Gadd - Distinguished Professional Achievement Award winner
Steve Gadd's achievements include winning a national drum and bugle corps championship as a young man, followed by steady recognition from many other music organizations. In 2005, he received an honorary Doctor of Music degree from Berklee College of Music for outstanding contributions to contemporary music. He was inducted into the Percussive Arts Society Hall of Fame the same year. In 2003 he received the Zildjian American Drummer's Achievement Award. He received the Drummer's Collective Award in 2002.
He has been a member of the Modern Drummer Hall of Fame since 1984. In 1961 was one of about 70 high school students from across the country selected to play in the School Band of America, which visited 12 cities in six European countries during a four-week tour.
As a child, he performed tap dance routines in hospitals and nursing homes with his brother Eddie, winning a local talent contest that lead to a west coast appearance on the Mickey Mouse Club television show.
He began drumming at age seven when he a family member gave him a drum set. His interest in drumming emerged even earlier. After watching parades he began to imitate drummers, using a knife and fork for drum sticks. He later played snare drum with a number of Rochester area drum and bugle corps, including the national champion Rochester Crusaders. The drum corps experience taught him the power of team members playing together, practicing hard trying to sound like just one person. His drumming has strongly influenced many drum and bugle corps over the years. His intro to Chuck Mangione's Legend of the One-Eyed Sailor, based on the rudimental solo Crazy Army, became a drum corps classic, performed in competition by 37 different corps since 1974.
He grew up in a rich Rochester area music environment, attending local clubs with his parents to hear such jazz greats as Dizzy Gillespie (sitting in with him on drums at age 11), Stan Getz, Max Roach, Art Blakey, Oscar Peterson, Kai Winding, Carmen McCrae, Ray Bryant and others.
After graduating from East Ridge High School he enrolled in the Manhattan School of Music, then returned to Rochester to attend the Eastman School of Music. He enlisted in the United States Army while in his last year in college, auditioning and being accepted for the Army's Field Band in the Washington D.C. area then returning to Rochester on his discharge in late 1971.
At the urging of a friend, he began travelling to New York City to do studio sessions, the start of a career that would see him working with the top music stars of the following five decades, including Frank Sinatra, Paul McCartney, Paul Simon, Steely Dan, Joe Cocker, Chick Corea, Chuck Mangione, Barbra Streisand, Eric Clapton, James Taylor, Jim Croce, Manhattan Jazz Quintet, Carly Simon, Jon Bon Jovi, Chet Baker, the Bee Gees, Michael McDonald, Kate Bush, David Sanborn.
His ability to amalgamate various jazz styles is evident on such songs as Paul Simon's 50 Ways to Leave Your Lover with its distinctive drum groove; the distinctive beat of Van McCoy's disco anthem The Hustle and on the title track of Steely Dan's album Aja.
He performed during the famous Simon and Garfunkel Concert in Central Park and was featured in Paul Simon's movie One Trick Pony. He has recorded and toured with guitar great Eric Clapton. He toured with James Taylor in 2014 and again earlier this year.
Dan Acheson – President's Lifetime Achievement Award
Within a year of beginning his term of office as chairman of the Drum Corps International (DCI) board of directors in 1995, Dan Acheson was named executive director and chief executive officer (CEO). At the beginning of this year, the board marked his two decades of continuous service by extending his contract for another two years.
During the 10 years previous to his service with DCI, he served as executive director of the Glassmen drum and bugle corps of Toledo, Ohio, a 16-time DCI world championship finalist. As a youth, he marched with Madison Scouts and Queen City Cadets of Cincinnati, Ohio – the first corps to take the field at the initial DCI championship preliminaries in 1972. During his decade with the Glassmen, he helped the organization develop strong community relations while reaching a high level of achievement on national level contest fields.
In 2008, he was inducted into the DCI Hall of Fame and was also recognized by the National Association for Music Education as a Lowell Mason Fellow for his contributions to the field of music education.
He is widely recognized for his high standard of professionalism, leading by example while acknowledging the achievements of others involved in the activity.
During his 20 years in office, Drum Corps International has become a youth organization with artistic, educational and organizational influence around the world. The annual operating budget is now more than $11 million, with annual revenues about three times higher than when he first took office 20 years ago.
DCl member corps entertain millions of people through live performances on contest fields and broadcast events. The organization has come to be known as "Marching Music's Major League."
More than 5,000 corps members participate in DCI drum and bugle corps contests across the country, attracting about 400,000 fans to more than 100 events. Each year, about 8,000 young people from more than 15 countries audition to fill the 3,500 positions available in the top-level corps.
The World Drum Corps Hall of Fame is a non-profit organization honoring those individuals who have contributed significantly over many years to the development and continuing excellence drum and bugle corps activity. The organization also seeks to preserve the history of the drum and bugle corps movement in North America by selecting a noteworthy junior and all age (senior) corps of the decade.
Regular World Drum Corps Hall of Fame members are honored for their dedication, contributions and achievements over a long period of time in categories including administration, arranging, adjudication, instruction, innovation and design. Associate members have dedicated at least five consecutive years of service to any drum and bugle corps as a performer or in a support role.